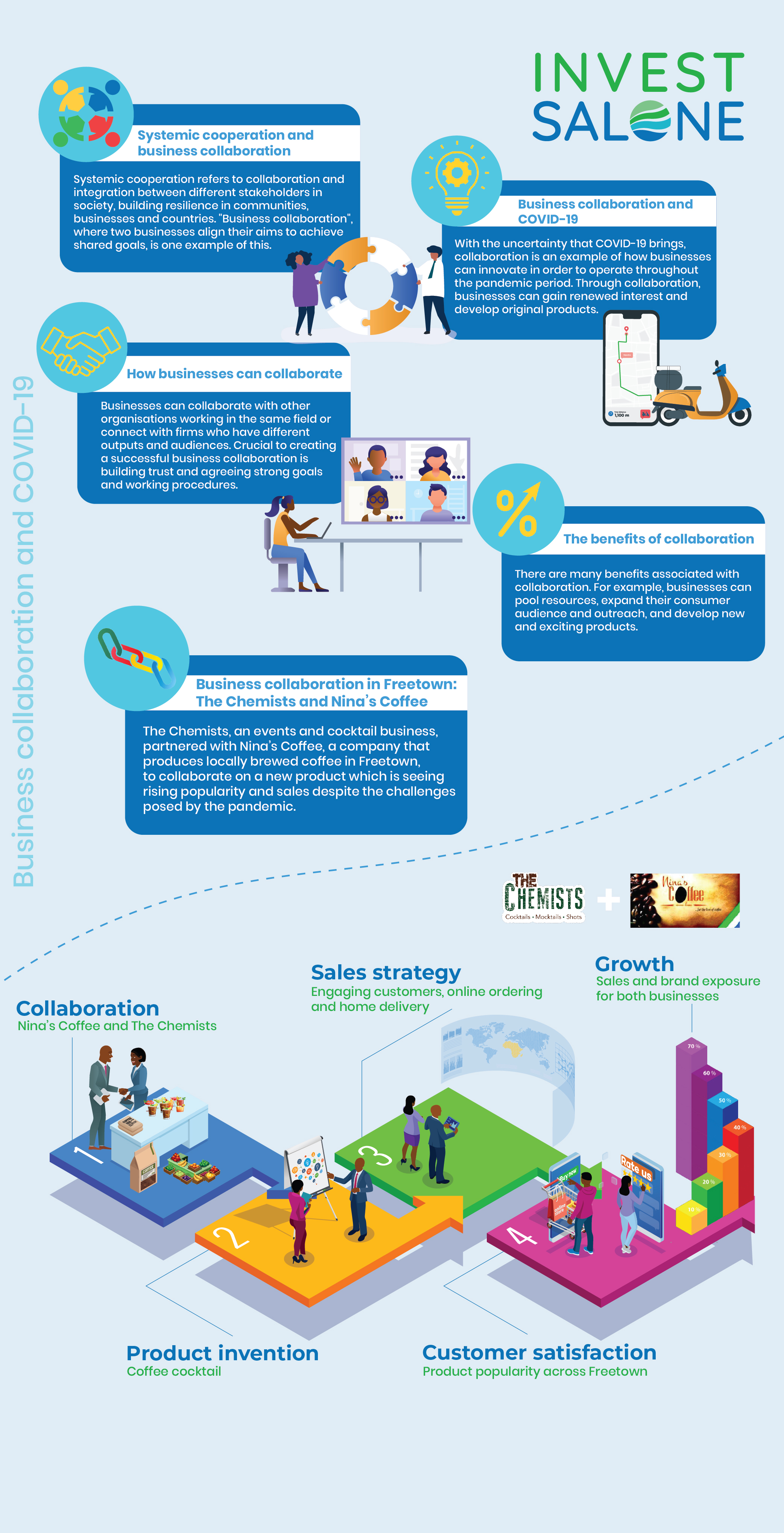 ---
According to the World Economic Forum, COVID-19 has highlighted the importance of multi-stakeholder collaboration and the need for systemic resilience. Systemic cooperation is key for businesses to regain the capacity to operate through the unprecedented challenges of the pandemic.[1]
Many businesses in Sierra Leone have temporarily or permanently ceased to operate due to measures introduced to mitigate the spread of COVID-19, such as physical distancing and prolonged curfews. Amongst the businesses most seriously hit by COVID-19 are those that provide hospitality services, such as hotels, restaurants, cinemas and bars, as well as those organising events that bring people together.
For Sierra Leonean events management and cocktail business The Chemists, innovative collaboration has been key to surviving the pandemic. The Chemists, set up two years ago in the capital of Freetown, is popular for its 'Games Nights' events, which provide a space for Sierra Leonean professionals to socialise.
Emeric Elliott, founder and mixologist, outlines the impact COVID-19 has had on his business: "In terms of [the restrictions on] social gatherings, COVID-19 has affected us greatly, as we've not been able to host our monthly events, which everyone looks forward to. So it has been really tough."
To help the business operate through the pandemic, The Chemists partnered up with Nina's Coffee, a company that produces locally brewed coffee. "I got in touch with Nina and asked if we could do a collaboration, to try coffee cocktails and see if it would take off," Emeric recalls, explaining how they expanded their cocktail range with new recipes to keep customer interest in the business. CEO of Nina's Coffee, Nina Reedwood Sawyer, adds, "After a few trials, we decided on the cocktails that we would use. That's how it all started." Together, they created a new coffee cocktail that has proven popular across Freetown.
The partnership has benefited Nina's Coffee more broadly, boosting the exposure and sales of her coffee, which is sold at supermarkets across Sierra Leone. "It has been a good way to advertise and I have had more sales," Nina says. More people are recognising her brand, and they have had very positive feedback on the cocktails: "We've had very good reviews!"
To continue under the strict government measures, Nina and Emeric, who prepare the cocktails at their homes, have switched to online purchases via mobile money and home delivery. Emeric has developed packaging and delivery of cocktails so customers can buy on demand for delivery to their own homes.
While the partnership came about in response to the pandemic, the two young entrepreneurs believe the benefits will be even greater once life returns to normal, as interest in the new coffee cocktail has taken off. The duo aims to introduce new types of coffee cocktails to different customers post COVID-19. The Chemists will also aim to resume its usual operations, organising and providing services for events such as weddings and birthdays, as well as bringing professionals together through its 'Games Nights'.
Like The Chemists and Nina's Coffee, many other businesses in Sierra Leone have changed their business practices in order to adapt to the economic challenges posed by COVID-19.
A survey of businesses operating in the tourism sector, conducted in early July by Invest Salone, shows that 48% of respondents changed their business practices in order to adapt to COVID-19. This included changes such as providing a delivery service, accepting payments online and scaling up social media engagement.
The survey highlights the fact that business owners in the tourism sector have benefited from loans from commercial banks and other forms of credit facility in Sierra Leone: 62% of respondents confirmed that they had received loans from commercial banks, while 38% received informal support to continue to run their businesses in the country.
However, the research also reveals a mixed picture, with 28% of respondents having had to permanently or temporarily close their businesses as a result of the pandemic. The majority of respondents that continued operations reduced their staff or scaled down operations.
Meanwhile, to cushion the impact of the pandemic in tourism and related sectors, the Government of Sierra Leone has recently announced that 4.8 billion Leones (US$ 480,016) will be allocated to help address the revenue and jobs lost as a result of COVID-19.
By doing so, the Government of Sierra Leone hopes to mitigate the impact of the pandemic on the country's economy and to reduce the economic burden on workers in the tourism and hospitality sectors. The aim is to preserve jobs and incomes for workers and business owners operating in these sectors.
---
[1] World Economic Forum:
https://www.weforum.org/agenda/2020/07/here-are-3-ways-for-businesses-to-survive-and-thrive-through-covid-19/
---
The opinions expressed in this article are those of the authors and do not necessarily represent the views of UK aid and the programme partners.