The tourism industry plays an increasingly important role in Sierra Leone. The country's breathtaking mountains, lush rainforests rich in exotic wildlife, white sand beaches and historical heritage sites offer rewarding opportunities for adventure, culture and eco-tourism which result in economic benefits.
The tourism sector has been hit hard by the COVID-19 pandemic. Businesses operating in this sector have been stalled for many months after the World Health Organization declared COVID-19 a public health emergency of international concern. However, a recent survey by Invest Salone suggests that businesses are adapting how they work so that they can continue to operate through the pandemic.
To understand the impact of COVID-19 on tourism businesses in Sierra Leone, Invest Salone conducted a rapid survey in early July. Findings from the survey revealed that many businesses in the tourism sector have shown resilience in continuing to operate, while some are permanently or temporarily closed as a result of the pandemic.
The research conducted by Invest Salone captured information from 35 respondents operating restaurants, clubs, travel agencies, casinos and hotels. They were predominantly serving customers from within the Freetown area in Sierra Leone as well as those from other regions and some overseas customers.
The survey revealed that 28% of respondents had permanently or temporarily closed their businesses. For the majority of respondents that continued operations, they had reduced their staff, working hours or scaled down operations.
The survey showed that 48% of the respondents have changed their business practices in order to adapt to the economic challenges posed by COVID-19. This included changes such as switching to operate a delivery service, accepting payments online, and scaling up social media engagement. However, 52% of respondents stated that they did not change their activities due to COVID-19.
The survey also highlighted that business owners in the sectors have been benefiting from loans from commercial banks and other forms of credit facility in Sierra Leone. 62% of respondents confirmed that they had received loans from commercial banks, while 38% received informal support to continue to run their businesses in the country.
Respondents expressed the need for the Government of Sierra Leone to support the private sector to continue to operate. Most businesses would like the government to intervene and extend repayment time for loans, adjust interest rates or monthly payments. Other government interventions suggested were to provide direct support to staff including salaries, tax breaks, grants, loan bail outs and loan repayment extensions.
Of the respondents who were struggling to meet their rent obligations, 52% had negotiated with their landlords or property owners: 33% had their rent suspended, 6% waived and 13% reduced.
Nevertheless, it is apparent that there will be a huge economic loss to business in this sector due to the recent ban on international flights and closure of borders with neighbouring countries, as well as the restrictions of movement and social distancing.
This survey is part of Invest Salone's COVID-19 response, which includes compiling a list of studies on COVID-19 in response to the impact of the pandemic on the private sector in Sierra Leone. This research list can be found here.
See the Invest Salone rapid tourism survey summary here.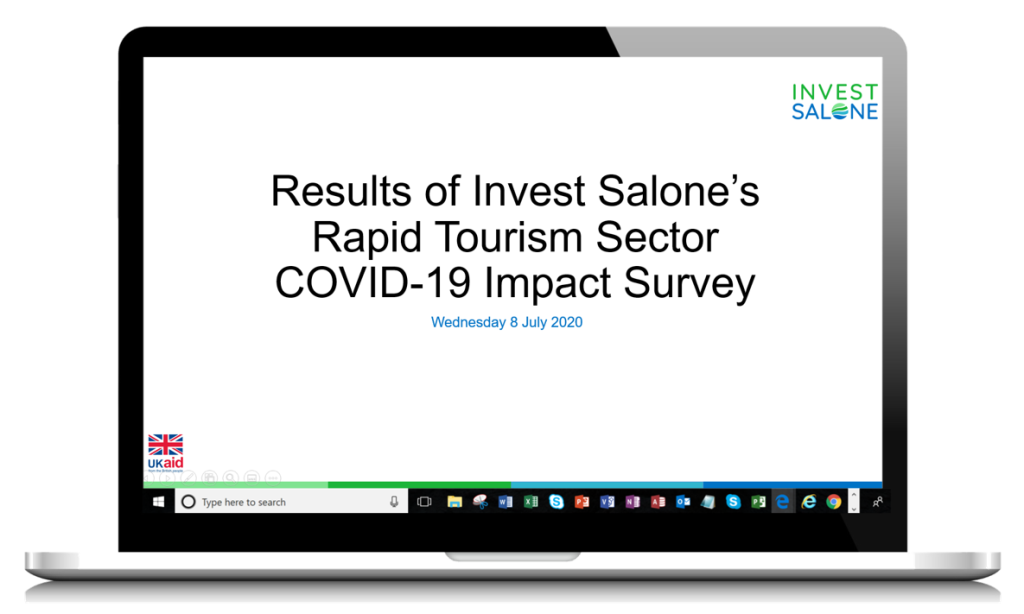 ---
The opinions expressed in this article are those of the authors and do not necessarily represent the views of UK aid and the programme partners.