To unlock growth in Sierra Leonean start-ups, structured support is essential if they are to acquire the tools necessary to attract institutional investment. This was one of the key messages delivered by four small and medium-sized enterprises (SMEs) at a roundtable in Freetown last month.
The event, which was attended by investors, Sierra Leonean firms and business development experts, was organised by Invest Salone and Acumen West Africa.
Invest Salone is a UK-government funded private sector development initiative which has been working with Acumen, a non-profit global venture fund, investing patient capital in businesses that enable people living in poverty to transform their lives.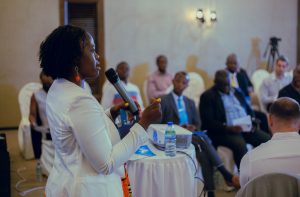 The four SMEs that presented at the event are part of a cohort of promising young companies being developed by Acumen through a series of investment readiness bootcamps. With match-funding from Invest Salone's PROSPER programme, which helps reduce the risks of investing in the Sierra Leonean market, Acumen has organised and executed two investment bootcamps, and is building a pipeline of investible businesses.
The first bootcamp, held in 2021, was a seven-week intensive programme, intended to increase the investment-readiness of a select group of 11 Sierra Leonean entrepreneurs delivering social impact in sectors such as agriculture and manufacturing. Building on lessons learned, Acumen designed Investment Readiness 2.0 – a follow-up, three-month bootcamp to strengthen the capacity of the six top-performing businesses from the first bootcamp.
Investment Readiness 2.0 included an in-depth assessment of each company using Acumen's due diligence framework to identify gaps in operations, team structure, regulatory compliance and business models. Each company developed a detailed work plan, with the support of business and coaching services.
October's Investor Roundtable was an opportunity for Sierra Leone's business ecosystem to hear directly from bootcamp participants and exchange ideas on how to encourage entrepreneurialism in the country.
Opening the event was Chukwu-Emeka Chikezie, Invest Salone's team leader, who said that everyone in the room had an important part to play in creating an environment that would help businesses start, grow and prosper: "The challenge for companies in Sierra Leone is finding the support and I hope we come out of today's event with a commitment to further strengthen the ecosystem so that in time, starting a business becomes the preferred option for young Sierra Leoneans."
He was followed by Andrew Tarazid-Tarawali from Acumen, who outlined the importance of the bootcamp series, saying: "Sierra Leone's nascent entrepreneurial and venture capital landscape represents a unique frontier market for impact investment that could lead to significant job creation, food security, social impact, resilience and returns for investors. However, the support required by SMEs within the start-up or early-stage phase to become investment ready is much greater than their peers in Ghana or Nigeria and without this pre-investment support only a handful of companies in the country would become viable investment prospects for impact investors."
Mariama Wurie, Founder of Jaiima Farms, explained how participating in the bootcamps had helped her realise that most start-ups in Sierra Leone face similar challenges, and that they can support each other by collaborating to find solutions: "Another big takeaway is that, as start-ups, we struggle to speak the language of finance because we focus so hard on getting the technical aspects of our business right and forget to give the same attention to the figures that can make or break the business," she said.
She was followed by Tafadzwa Chinganga, from Muzambiriniga, who provided business development support during the bootcamp and said, "Companies in Sierra Leone have passion, energy and enthusiasm, but they lack a lot of essential business skills…when they get an opportunity like this, they really value it and the results are immediate and impactful."
Looking ahead, Acumen and Invest Salone expect to share insights from the bootcamps with the ecosystem and will be creating an Investment Readiness Toolkit that companies, incubators and investors can use to prepare for investment.