Traditional leaders from the Western Area Peninsula National Park (WAPNP) met local investors at a recent landmark event to identify nature-based alternatives to logging, sandmining, charcoal production and other environmentally unsustainable activities.
The event was organised by Invest Salone, a UK supported private-sector development initiative in collaboration with the Ministry of Western Region, the Ministry of Tourism and Catholic Relief Services. It was attended by 28 Headmen from Freetown Peninsula's York Ward, Minister of the Western Region Nabeela Tunis and representatives from the Tacugama Chimpanzee Sanctuary. Experienced local private-sector investors were also present, such as Cordaid Investment, Eden Group Sierra Leone, Peninsular Innovative Group and the Renewable Energy Association, Sierra Leone.
The extensive illegal urbanisation of the WAPNP, which is threatening Freetown's water supply, was discussed, as well as coastal erosion caused by illegal and unsustainable sandmining. Participants also described the effect of unchecked urbanisation on their communities and traditional sources of incomes.
Minister Tunis stressed the importance of putting the community at the centre of all consultations and asked the Headmen as custodians of the Western Region area to renew their commitment to preserve the area. "These consultations should not just focus on the problems," she said. "It is important to work with nature rather than against it to solve our environmental challenges and we look to our communities to take the lead in finding and implementing solutions that work."
Participants listened to examples of successful nature-based businesses from countries with similar challenges. This was followed by break-out groups which allowed community members and investors to discuss opportunities in Sierra Leone.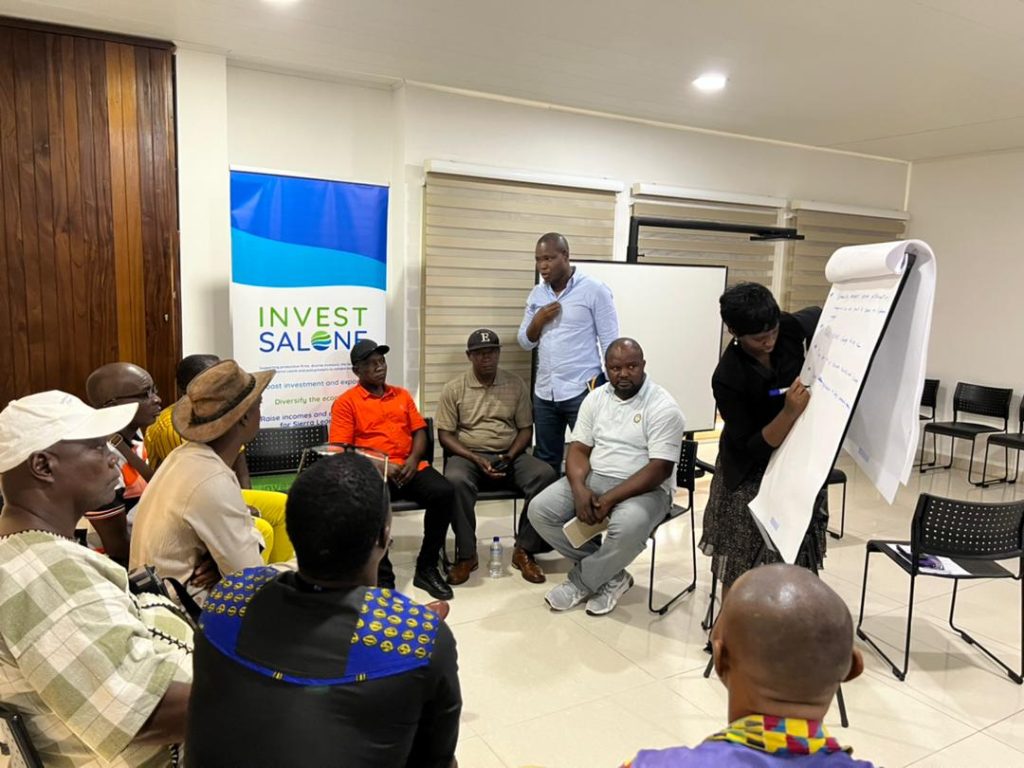 Tree crops, fishing, waste management and ecotourism activities such as hiking, storytelling, and souvenirs, emerged as nature-based job opportunities with the greatest potential.
Follow-up actions agreed included scheduling a programme of community, investor and public-sector engagements to keep communities and investors engaged; and working with communities and relevant ministries to identify investible land.
Chairman Slowe, the Headman of the Tokeh Community said: "These discussions are essential, not just for me, but also for our children and their children. When we return to our communities, we will begin to take action and put into place today's decisions."
Georgina Laverse, a consultant for Invest Salone said that nature-based solutions are increasingly recognised as a key component in addressing the climate emergency, alongside essential transformations in our energy, urban and industrial systems. "This is the first step in scoping whether there are bankable opportunities to promote alternative livelihoods, which could then be showcased to investors," she added.