COVID-19 has resulted in the closing of schools, colleges and workplaces across the world, leaving a potentially devastating learning gap. In surveys, Sierra Leonean employers have stressed the value of learning, particularly distance learning, to cushion the impact of such closures. Collaborations between the public and private sectors to increase access to learning resources are helping learners to stay on track, and giving employees the chance to learn skills for a post-pandemic economy.
.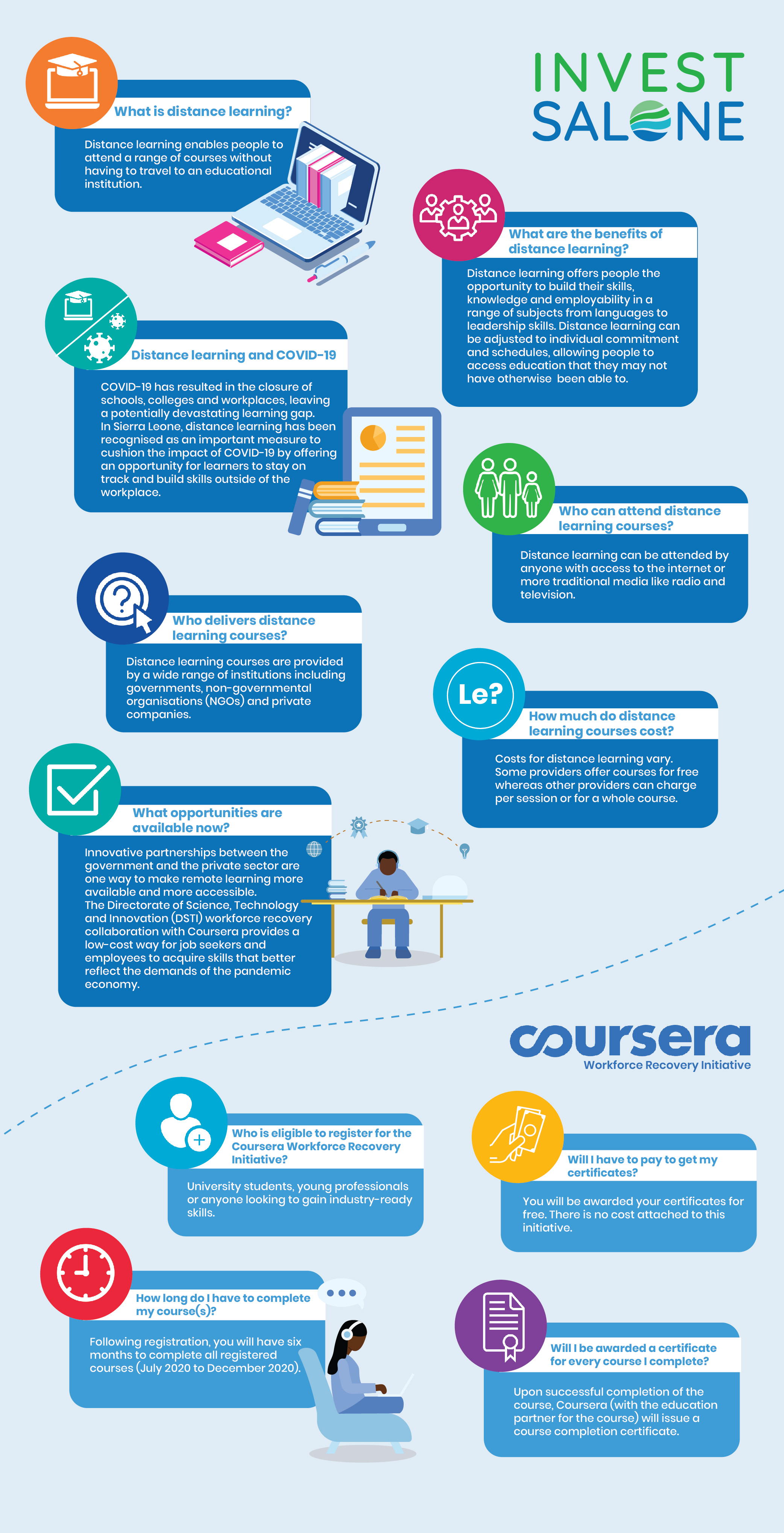 Across the world, the COVID-19 pandemic has created challenges for learning at all levels. Students and their parents have been left wondering how to bridge the educational gap created by school and university closures, lockdowns and curfews. In the world of work, uncertainty has become the new normal, prompting a sudden re-evaluation of the skills needed to navigate the demands of a post-pandemic world.
If there was ever a moment for distance learning in all its forms, this is it. Sierra Leone has been quick to recognise such possibilities:
The country's employers are stressing the value of learning, especially e-learning, as an important measure to cushion the impact of COVID-19
Schools and universities are using e-learning, radio, TV and SMS to deliver lessons and learning materials
A Directorate of Science, Technology and Innovation (DSTI) workforce recovery collaboration with Coursera is providing a low-cost way for job seekers and employees to acquire skills that better reflect the demands of the pandemic economy.
The problem with distance learning is that it comes with a host of equity and access concerns. This is particularly true in Sierra Leone, where access to technology and usage is low. Innovative partnerships between the government and the private sector, however, are making remote learning more available and more accessible.
Distance learning for schools
An example of such partnerships is the collaboration between Rising Academies – a low-cost private school network – and the Ministry of Basic and Senior Secondary Education. This leverages SMS and radio, which are relatively low-cost technology solutions, to deliver Rising On Air: a free distance learning solution using redesigned curriculum content from Rising.
E-learning for workforce development
Another example is the DSTI's workforce development collaboration with the Ministry of Technical and Higher Education and Coursera – the worldwide online learning platform – to help Sierra Leoneans acquire in-demand and industry-ready skills. To date, almost 3,600 learners have signed up.
When it became clear that those with the most potential to benefit were constrained by data charges, unreliable access to electricity, lack of equipment and lack of online experience, private sector partners stepped forward to support the initiative.
The telecoms operator Orange Sierra Leone has included the Coursera website on its Orange Education Portal and gives subscribers a data allowance to access the courses. JobSearch SL, a local human resources company, has also organised a whole skills week around World Youth Skills Day on 15 July to support learners. This gave 80 participants free access to JobSearch SL's Freetown-based training premises, where they were helped to register, select courses and download the Coursera app on their phones. Most have continued to visit the JobSearch premises two days a week to access the internet.
Although the current popularity of distance learning is associated with COVID-19, it nevertheless calls for a renewed conversation about whether more flexible learning solutions could meet Sierra Leone's growing tertiary and adult educational needs longer term, particularly given the new opportunities provided by the country's rapidly expanding mobile internet connectivity.[1]

---
[1] Mobile Internet Connectivity 2019: Sub-Saharan Africa Factsheet
https://www.gsma.com/mobilefordevelopment/wp-content/uploads/2019/07/Mobile-Internet-Connectivity-SSA-Factsheet.pdf
---
The opinions expressed in this article are those of the authors and do not necessarily represent the views of UK aid and the programme partners.